Leonpolis Manor Landscape

Location: Leonpolis, Ukmergė District, Lithuania
Year: 2019-2024
Client: UAB Ekomarket
Collaboration: Studio Space/Time, MB
Primary Purpose: Manor park
Site Area: ~15Ha

From 16th century Leonpolis Manor has been functioning as working farm. Today it is home to one of a larger organic vegetable and fruit producers in the country. We have been commissioned to redesign Manor's territory to fit new recreational and cultural uses that are closely related to the farm, its rich histories and fragile natural environment.
Existing condition


Most of Leonpolis Manor territory is situated on the top terrace of Šventoji river. A bigger part of current manor buildings were built in mid 19th century and they have not been renovated yet. Big part of the territory is used as organic fruit and vegetable farm while the parts around historic buildings are passively maintained for recreational uses. The lower terrace of the river is naturally overgrown with forest and riparian flora. Leonpolis Manor and its territory is a protected heritage site of regional importance.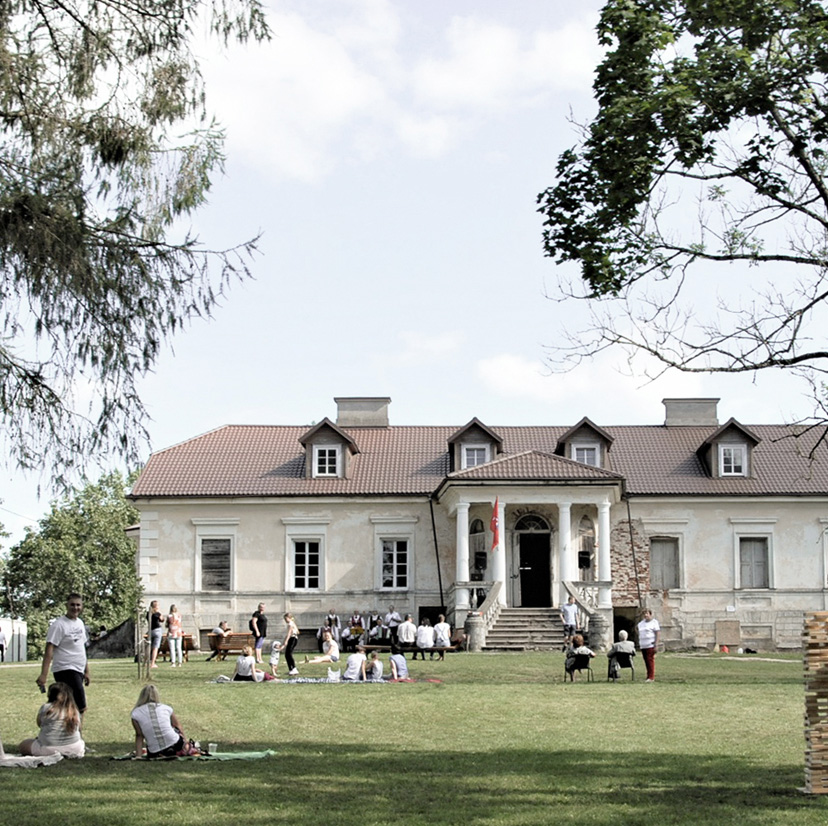 The proposal is based on our in-depth study of site's cultural history and rich environmental contexts. Here we wish to articulate the deep traditions of agriculture and its cultural heritage while not only preserving but enriching further the diverse natural habitats existing on site.
Our project seeks to create a new park consisting of three separate parts - historic park around the main Manor building, agricultural park around brewery and former cattle-shed to house new restaurant and spaces for bigger events.
We constructed a physical model of the site in order to both understand its topomorphological and urban specificities and, through it, get a better sense of scale of different spaces and evaluate the role existing planting plays in forming them. Alongside this, the slow process of model building gave us crucial time to meditate on possible design scenarios, that were later tested in easily comprehensible scaled environment - something that neither the medium of drawing nor that of SGIs is usually capable to fully articulate.