Augustinian monastery gradual regeneration strategy
The goal is to create space that would work for everyone
and would be as diverse as the community itself.
It is important for us to retain unique identity of this place
and use it as a foundation to build strong and successful future.




The construction of the Augustinian monastery began in the 17th century. Soviet occupants have turned the church into a warehouse with 3 storeys. Not long ago the territory of a monastery was handed over to the ministry of the Interior of the Republic of Lithuania and opened its doors to various art festivals.

Bauland with other architect teams was invited to create an urban vision with a strategy to redevelop the whole territory to envision multifunctional spaces for holistic education, co-creation, voluntary work, artistic and community activities. We proposed a gradual conversion strategy to start from quick public space activation to restore a historical old town structure with former botanical gardens.



Location: Vilnius, Lithuania

Year: 2020

Client: VŠĮ Bendrystės ir socialinių inovacijų centras

Project type: Creative workshop

Collaboration:

Studio Space/Time
Our vision is based on three main themes corresponding to the needs of diffrent groups of users:
Oasis of peace ︎ Sociocultural HUB ︎ Education through making. All three of these themes come with a variety of ideas, values and goals. They complement each other and create dynamic process moving forward. Circular economy plays an imporant role in the complex day to day life and takes into consideration 5 themes: energy, water, materials, food and waste. All the activities and iniciatives need to be linked to these themes to create sustainable identity.
SHORT-TERM

The aim is to activate the surroundings of the church first and start transforming the whole space as one by using temporary interventions (like modules and art instalations) and making all the entrances recognizable.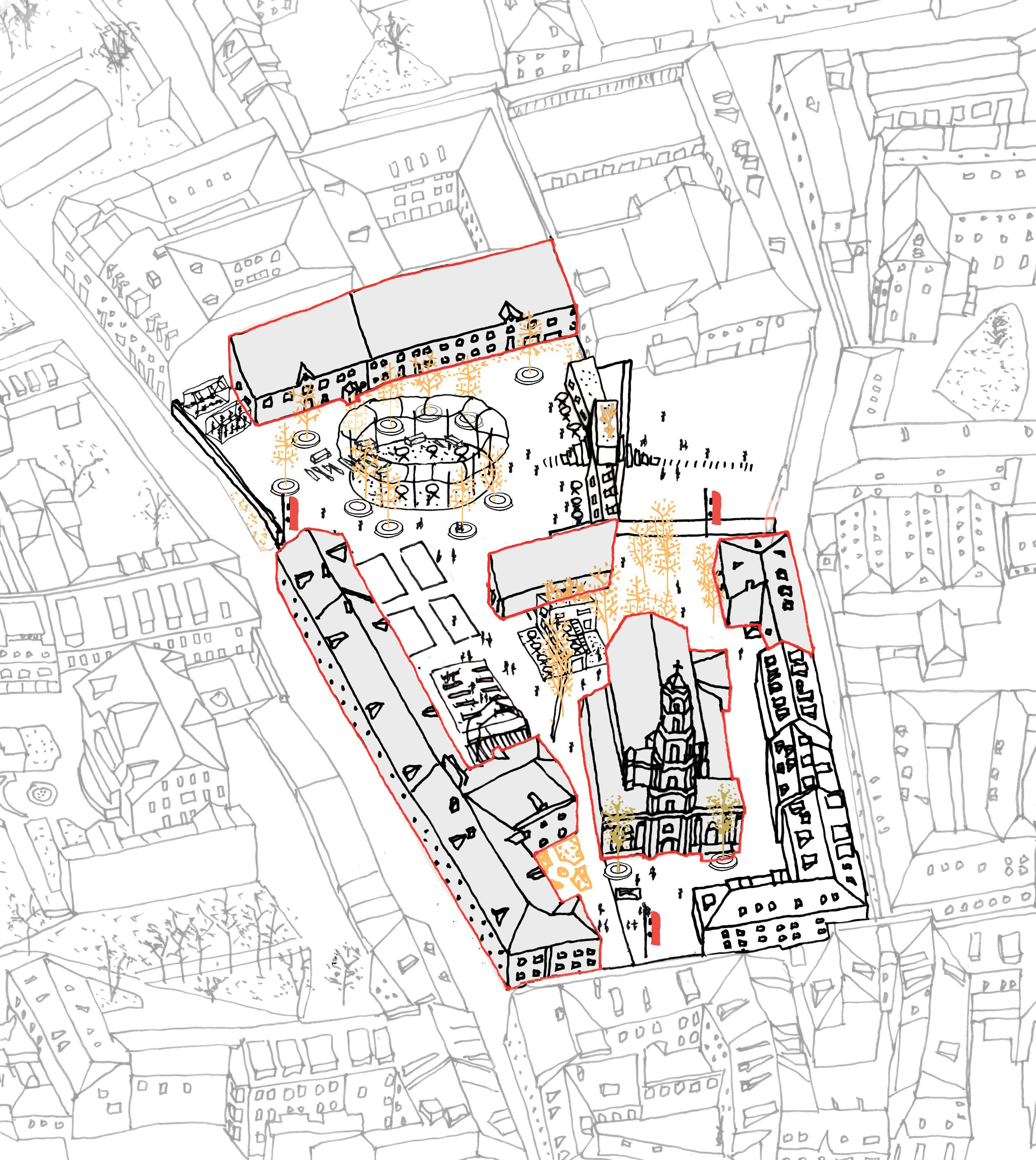 MID-TERM

It is the time for architectural, landscape design and sociocultural projects. The main courtyard becomes greener and full of life with events, gatherings and urban garden. The church starts to being transformed to better accommodate community's needs.
LONG-TERM

Long-term vision is to position the complex as a center of inovation, spirituality, sociocalture and creativity. Furthermoer, the historical complex structure is being restored which redefines spaces with distinct functions and creates an opportunity to bring formal botanical garden back.