Anykščiai Museum Hill ensemble and homestead renewal
An open competition proposal for a complex development of Anykščiai Museum Hill ensemble
Anykščiai Museum Hill ensemble and homestead is a public urban space for an acquaintance, relaxation and encounter. First of all, the project highlights features of the 20th century homestead typical of the place - unity of buildings, outdoor spaces and the landscape surrounding the ensemble and the organic coherence of architecture and natural environment.

This competition proposal suggests combining the buildings and the territory of the Museum Hill ensemble into one body and positioning it as a public space between nature and the city with moderate landscaping means. Meanwhile, the main purpose of the new cover of the granary of Antanas Baranauskas is to exhibit the granary and to create favorable flows for visitors in the overall experience when visiting the Museum Hill, which starts with the barn cover. The dynamic functionality required for a modern museum is given to the complex by the lower volume of the building set in relief.
You can check a competition proposal booklet
here.
Location: Muziejaus st., Anykščiai, Lithuania
Year: 2023/04
Project type: Open architectural competition
Collaboration: ŠA Atelier (Gabrielė Šarkauskienė, Antanas Šarkauskas)
3rd prize winner
1. 3-level pedestrian circulation is created in the park for main visitors paths, homestead visitors paths and mowed paths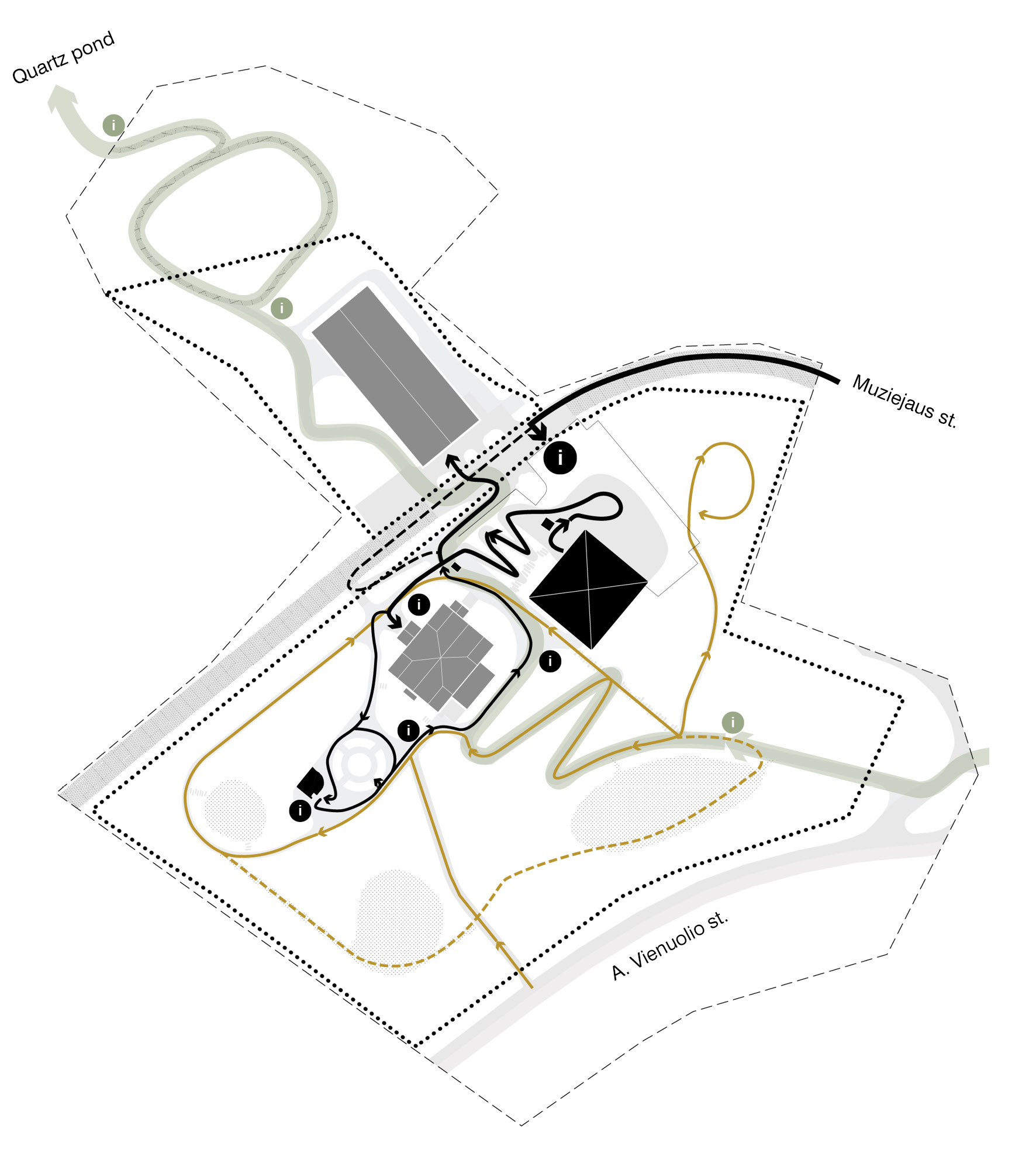 2. Proposed ensemble visiting scenarios let learn about the homestead, discover paths of A. Vienuolis and experience surrounding nature
3. Mix of functional zones of the ensemble include active areas, cognitive areas and leasure in the homestead areas
4. All territory is being devided into such characteristic green areas as natural flowering meadow and to mowed meadow, flower and herb gardens, orchards

The proposed above-ground architecture is characterized by a moderate relationship between the house of A. Vienuolis and the surrounding architectural character. This is an object that does not try to surprise or shock, its main purpose is to exhibit the granary of A. Baranauskas and to create favorable visitors flows in the general experience when visiting the Museum Hill. The exceptional relief of the homestead and the rational program meet on the lower level of the building - its purpose is to foresee a clear route for visiting the museum and serve the complex with smoothly organized functions.


New cover of A. Baranauskas barn integrated into landscape ©ŠA Atelier
The artistic quality of the new architecture is expressed through the relationship between cultural and natural forms, with subtle structural and material means that would extend the uniqueness of the existing homestead complex. All cultural heritage objects in the homestead are preserved and exhibited - the aim is to harmonize the environment in such a way that the heritage objects stand out and reveal themselves.

History is also remembered by the name of the project chosen not by chance - cita, ciuta. Being in a particularly good mood, Antanas Vienuolis liked to hum words like: Cita ciuta, Cita, cis while walking under the birches.






Site plan
A Plinth floor of A. Baranauskas barn
B New cover of A. Baranauskas barn
C Museum archive
D A. Žukauskas-Vienuolis memorial house-museum
1 Main entrance area in Museum st.
2 A well
3 Flower garden of A. Baranauskas
4 Bust of A. Baranauskas
5 Public terrace
6 Cafe terrace - hollow
7 Apple orchard with rest places
8 Field for play
9 Children play area
10 Field and apple orchard for rest
11 Bridge
12 Herb garden, panoramic view
13 Memorial birch path
14 Flower garden with a grave of A. Žukauskas - Vienuolis
15 Service area
16 Employee and visitor rest area
17 Educational trial